A few months before the Big Day, Charles, Cindi and Kay sent an email out to as many of Charlie and Peggy's friends here and around the world as could be siphoned from their address books. We requested stories, memories, poems and photos about Charlie and Peggy's life together, then intermixed the wonderful words we received with family photos to create a Memory Book. On Sunday, December 4, 2005 we surprised Charlie and Peggy with the book in their Sunday School class at First Baptist Church of Springfield, Missouri.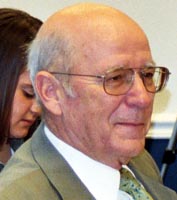 Given that Charlie and Peggy have reputation for arriving closer to the END of class time, daughter Kay spent the night with them. She told them that her anniversary gift was to attend Sunday School, but REALLY she was there to assure that they'd make it to class on time to be feted. She had arranged for our much beloved uncle, Gary Eaton, to be waiting in Sunday School too, so she could say to them, "Uncle Gary's there waiting for us. You have to be on time!"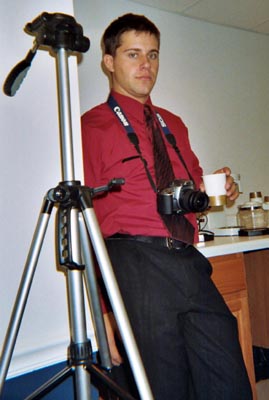 Charles and Cindi, along with Cindi's husband Bob and children Chris, age 19, Katie age 17, and Kimberly age 16 arrived early and decorated the room with a poster, banner and streamers. Chris was our event photographer. The memory book, and a notebook with complete cards, letters and emails and a huge fruit basket (this was the "anniversary cake" since Charlie and Peggy don't eat cake) were displayed on a table. Sunday, December 4 was the Adult 3 Sunday School class monthly social, so there were coffee and goodies and many of Charlie and Peggy's friends. When Charlie and Peggy entered the hallway, someone called out, "they're coming!" and everyone stood and faced the doorway. Chris was waiting nearby with his camera.
Just before Charlie and Peggy reached the Adult 3 classroom, Charlie demonstrated a sometimes aggravating independent streak by taking a sudden left into another room. Peggy, accustomed to Charlie's meanderings, continued to the room, and entered solo. She paused at the door and stood looking around, smiling as the room exploded into applause. She glanced at Chris, who had his camera raised, and said, "Wow, do you do this for everyone?" She looked over Cindi and Charles, and Bob and Katie and kept smiling. Finally, Kimberly stepped toward her. Peggy appeared confused for a moment before she recognized Kimberly, and gasped.
We had to send Kimberly to get Charlie. (We're always having to chase him down!)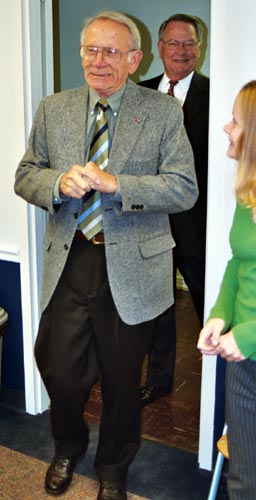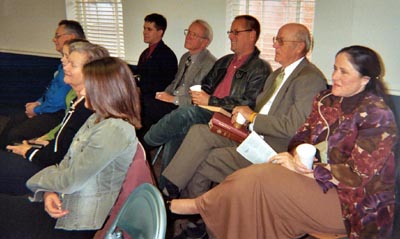 After the Sunday School opening where we sat together, the girls attended class with Peggy while the boys attended class with Charlie.
Later, Uncle Gary treated the entire family to brunch at Charlie and Peggy's favorite Springfield restaurant (All You Can Eat!!!), Golden Corral. JoAnne Brown, from the Missouri State University Religious Studies department, and her husband, Mike, were waiting there for us when we arrived. Charlie and Peggy were good sports when asked to don the traditional coffee filter and be recognized for their special day.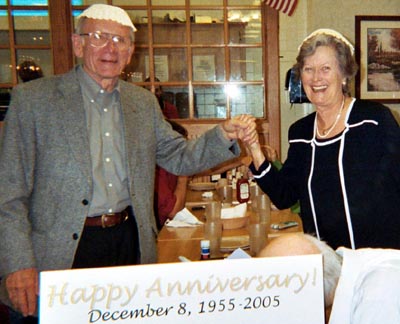 Because they "gambled 50 years ago," Charlie and Peggy gambled again, spending their anniversary weekend, December 8-11, in Las Vegas, Nevada.
Thank You Everyone for helping to make this special day memorable.
From Charlie and Peggy's Children,
Charles, Jr., Cindi and Kay